The U-SCUAR strategic project will enable SAIL IV operations through advanced research in the field of UAS
In a context dominated by open category operations that limits the use of unmanned vehicles to a very limited kind of missions with a limited scope and benefits, other operations with great added value are relegated due to its higher degree of complexity and risk. This causes the number of missions of this profile to be lower than the first ones, slowing down the beneficial use of unmanned vehicles for missions with high added value and greater operational complexity.
In this challenging context, the U-SCUAR consortium was born with the objective of undertaking advanced research in the field of unmanned systems, in order to comply with the requirements of European regulations on UAS.
The objective of this consortium is to provide the platform with technologies focused on operations under the highest efficiency and safety standards, enabling the safe use of unmanned vehicles in advanced operations such as firefighting, maritime rescue, coastal surveillance, etc.
The project proposes the definition and development of a complete system that can operate in medium-risk SAIL III and IV operational scenarios following the SORA methodology and in effective compliance with the requirements of the European regulations on UAS in order to provide the platform of technologies focused on operations under the highest standards of efficiency and safety.
The U-SCUAR project has been recognized for its strong strategic, technological, and innovative nature, which is why it has become part of the Aeronautical Technology Program (PTA) of the Spanish Ministry of Science and Innovation. In turn, this program is framed within the Strategic Project for Aerospace Economic Recovery and Transformation (PERTE), approved by the Interministerial Commission last March 2022 and which plans to mobilize around 4,533 million euros between 2021 and 2025 to strengthen capabilities of the aviation industry. U-SCUAR stands out for its contribution to unmanned aerial vehicle technologies, meeting the necessary requirements to enter the program.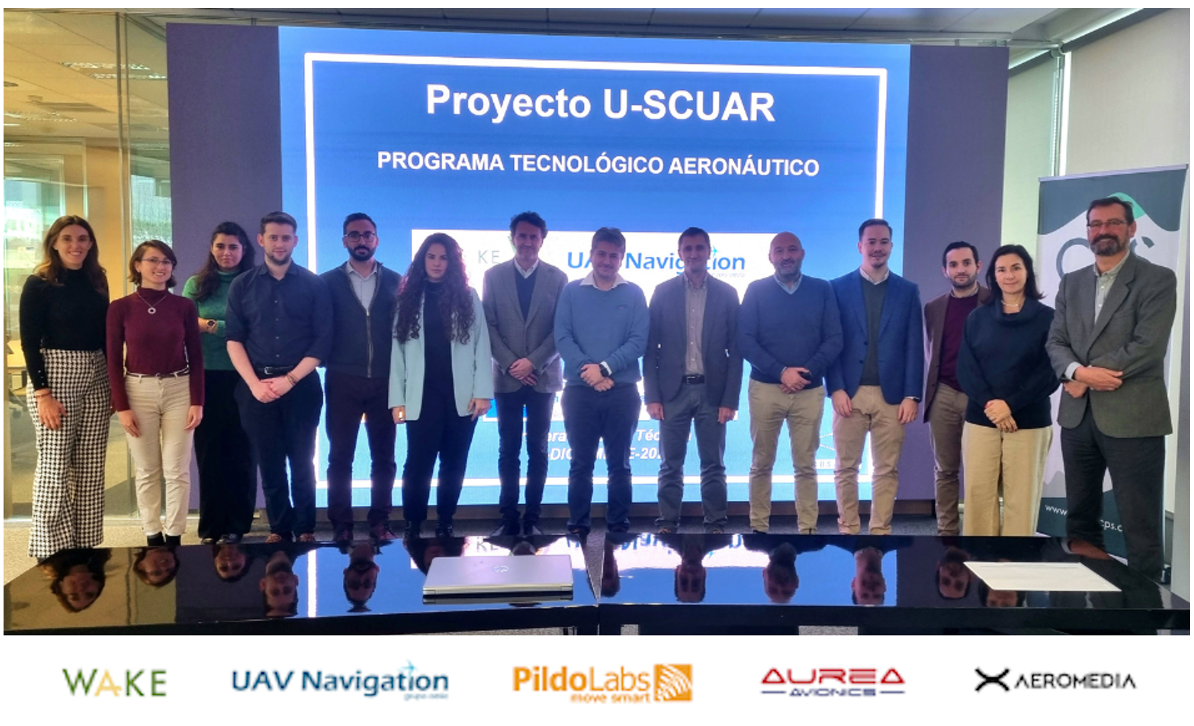 The consortium of companies with a high technological base that will work on the U-SCUAR project will be led by the company Wake Engineering, to which are added important strategic partners such as UAV Navigation, Pildo Consulting, Aurea Avionics or Aeromedia UAV. Likewise, it should be noted that the consortium will have a strong involvement of collaborations from Research Organizations such as AICIA, UPM or CATEC. With this consortium of national firms, the technological muscle of the Spanish industry in the field of unmanned aerial vehicles and its ability to collaborate and generate synergies that allow top-level projects to be undertaken are revealed.
This project has been subsidized by the CDTI, co-financed with European funds from the Recovery and Resilience Mechanism and supported by the Ministry of Science and Innovation.
The expansion in the use of UAS of specific category in missions of great benefit to society will be a reality thanks to the ambitious project developed by the U-SCUAR consortium.